The Forum for African Women Educationalists of Zambia (FAWEZA) is working with the community in Southern Province to combat Child Marriages/teenage pregnancies  among school going children. The Organisation has trained mother mentors and the neighbourhood watch members    -who are gallant women and men from the communities, who have volunteered their time to promote and protect the rights of girls in Munjile and Mainza communities in Southern Province of Zambia.
Playing different roles, the mother mentors are charged with the responsibility of educating the school going girls on the ills of child marriages and teenage pregnancies. The mother mentors also monitor school absenteeism among the girls. They also provide counselling to the girls who are victims of child marriages/teenage pregnancies and encourage them to re-enter back into school.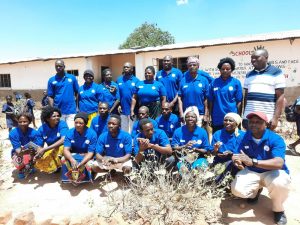 On the other hand, the neighbourhood watch committee is a link between the community and the Zambia Police in the area. The members of the committee are charged with a responsibility of reporting perpetrators of GBV in the communities especially those who marry or marry off learners. The committee in Munjile and Mainza communities in 2020 managed to report a total of 25 cases to the local Zambia Police-Victim Support Unit (VSU).
This is under the "access to justice for adolescent girls"- project being implemented through financial support from  Equality Now – A Nairobi Based NGO. The project has seen a total of 15 girls re-claim their school space after becoming pregnant and being married off.
In Zambia teenage pregnancies/child marriages continues to be one major cause for school drop-out among adolescent girls. The Ministry of General Education statistics show that annually, over 15,000 girls drop out of school due to pregnancies. This scenario is of great concern to FAWEZA.
To compliment government's efforts, FAWEZA continues to accelerate training of teachers in comprehensive sexuality education so that they cascade the knowledge to learners, FAWEZA empowers families with financial literacy so that families are able to meet the basic needs of school going children and support their education. In addition, the organisation conducts community awareness on the ills of child marriages and teenage pregnancies to mention but a few interventions FAWEZA implements to curb teenage pregnancies and child marriages in Zambia.